Twitter's growth since its IPO has been a constant source of ire for investors. With its earnings call this week, let's look at why it has underperformed
Feb. 6, 2020
Twitter (NYSE:TWTR) announces its quarterly earnings on Thursday, February 6. For those in the audience old enough to remember the company's last earnings report last October, you will recall a big miss on top and bottom lines and the stock jumping off a cliff, plunging over 20% in one day. The miss was attributed to a bug that limited Twitter's ability to target ads. CFO Ned Segal stated on the call that the effects of this product malfunction are expected to "continue to weigh on the overall performance of our advertising business in the near term", with the social media giant revising their expected revenue for Q4 to $940 million to $1.01 billion. 
The effect of this bug will garner a lot of attention on Thursday's earnings call, and rightfully so. Its impact on ad revenue for the quarter and whether the issue has been fully resolved or if it will continue to limit earnings for 2020 will be under close scrutiny from investors. They are known to be a fickle bunch, with 7 of the last 10 earnings reports causing a double-digit swing either up or down for its share price. Could disappointing news on Thursday make it 8 from 11?
Zooming out, a bug like this is not going to be a factor in Twitter's long-term growth plans. But what are these plans? Its list of innovations in recent memory is limited to doubling the number of characters permitted to provide a less-disjointed message when the Tweeter-in-chief decides to unleash a stream of consciousness to his 72 million followers. To look forward we must first look back and analyze Twitter's past performance to see if there are any clues as to what it has in store.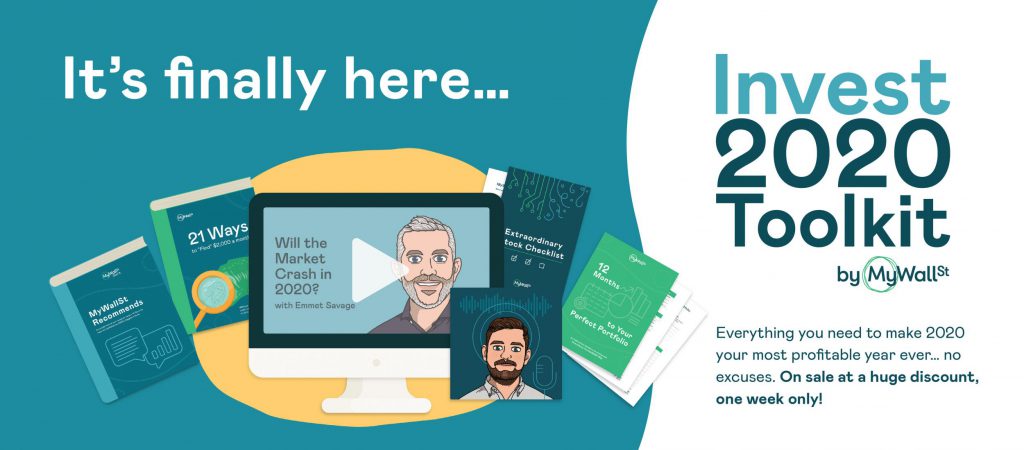 Twitter's Historical Performance
At the closing bell on its first day of trading Twitter's share price was $44.90. Its current price? $33.39*. A return of -24% on your investment. The S&P 500 (NYSEARCA: VOO) returned 54% in the same time period. Facebook's (NASDAQ:FB) value has more than tripled.
Now ask yourself the following questions: 
In the past 6 years has Twitter's global impact decreased? 
Has its importance in the distribution of information decreased?
Has its effect on how news is reported decreased?
Is it three quarters of the company it was in 2013? 
I truly believe no one in their right mind can answer yes to any of these questions, and yet, this is where we stand in terms of its stock price. Maybe one question should be added to the list that may enlighten us as to why the stock has stagnated since its IPO:
Has Twitter successfully diversified its product offering?
There's a reason why Facebook boasts a third of the world's population as users. It has diversified its suite of products through acquisition and optimization, constantly updating its platforms to stay ahead of the times. Each one of these offers a complimentary service within its ecosystem. While Facebook can be scrutinized for a number of different issues, a lack of innovation is certainly not one of them. 
This is the same reason why Facebook's market cap is roughly 24 times the size of Twitter's. Yet it is natural to talk about the two companies in the same breath as if they were rivals. As things stand, Twitter is nowhere near the advertising behemoths of Facebook or Google (NASDAQ:GOOG)(NASDAQ:GOOGL), nor does it seem to have any grand plans to try and reach such heights. Twitter is a one-trick-pony that has missed an abundance of opportunities for growth due to a refusal to innovate, yet the potential its platform provides remains. To achieve this potential, a shift in mindset amongst the leadership needs to occur.  
I'll leave you with my first ever tweet which I wrote to my vast number of followers and not to sign off in a really cheesy way specifically for this article.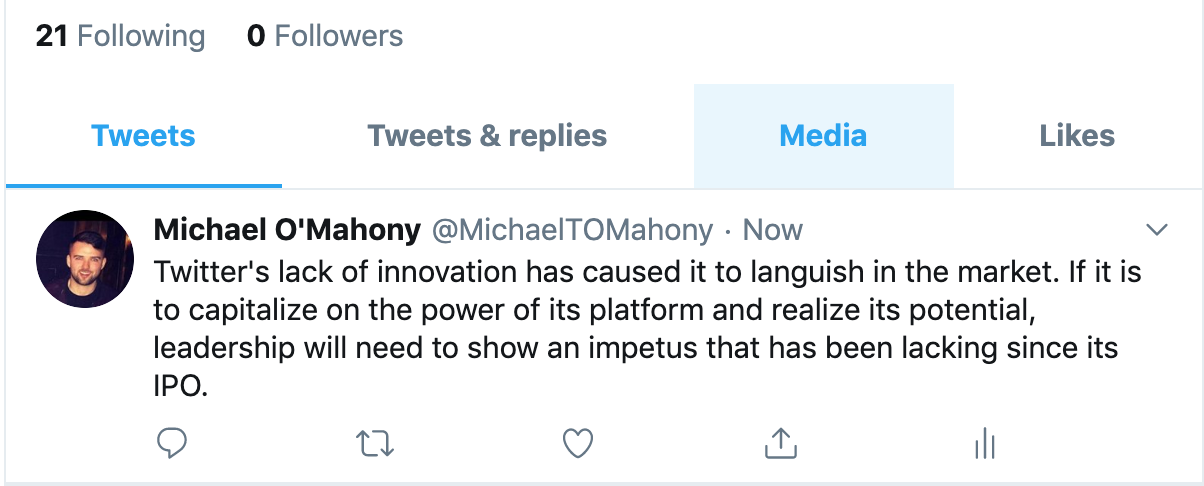 *Price at close of market February 5th
More from MyWallSt:
---
MyWallSt operates a full disclosure policy. MyWallSt staff currently holds long positions in Twitter, Facebook, and Alphabet. Read our full disclosure policy here.