Reddit has become a very popular forum for investing topics over the past year, here are two stocks that people are discussing right now.
Sept. 7, 2021
Reddit is a social networking forum that allows people to chat about any topic they wish to. Over the last year, the website has become a hub for stock investing discussions, especially when the meme stock saga first kicked off. 
Many investors have now turned to the forum to see what stocks might witness a short-squeeze. This happens when traders notice that a stock has a high level of short interest in it and investors buy shares in the hopes that short sellers will have to buy more too to cover their bets. The combination of the two results in the stock skyrocketing. 
While basing your investment choices on whether or not a stock is being discussed on social media is not the best idea, it can be useful to keep track of which companies are becoming popular. Sometimes the companies trending on these sites have good reasons to be, including exciting new product releases, a change in management for the better, or a move into a fresh sector. 
Be warned though, it's vital you know the difference between deserved hype and hot air. If you are struggling to know the difference between which investment opportunities are solid, why not check out our shortlist of market-beating stocks? Our expert analyst team has already done all the research into these companies and we have smashed the industry average year after year. 
Here are two stocks trending on Reddit right now
1. Tattooed Chef 
Tattooed Chef (NASDAQ: TTCF) is a plant-based company that operates out of California. The stock has grown in popularity on Reddit as it is set to disrupt the food industry by providing alternative, healthier choices to the masses. 
As it is becoming more convenient for consumers to switch to vegetarian and vegan diets, companies like Tattooed Chef are really benefiting from the trend of people ditching meat and animal products. Fueling bullish sentiment over the stock is also its latest earnings release. 
For the second quarter, the firm posted sales of over $50.7 million, up 46% year-over-year. On the call, Sam Galletti, President and CEO of Tattooed Chef stated:
"By the end of the third quarter, we expect our branded Tattooed Chef products will be in over 12,000 retail stores, exceeding our previous goal of 10,000 stores."
Adding to the hype is its acquisition of Foods of New Mexico. Galletti added that with the buy: "we have ample production capacity to achieve over $500 million in revenue, and a strong innovation pipeline to stay ahead of the curve."
While it may have lots of competition in the plant-based space, such as Beyond Meat and General Mills, the global meat-free food industry is expected to reach $74.2 billion by 2027, so there looks like there's plenty of room for Tattooed Chef. We can definitely see why this stock is popular on Reddit.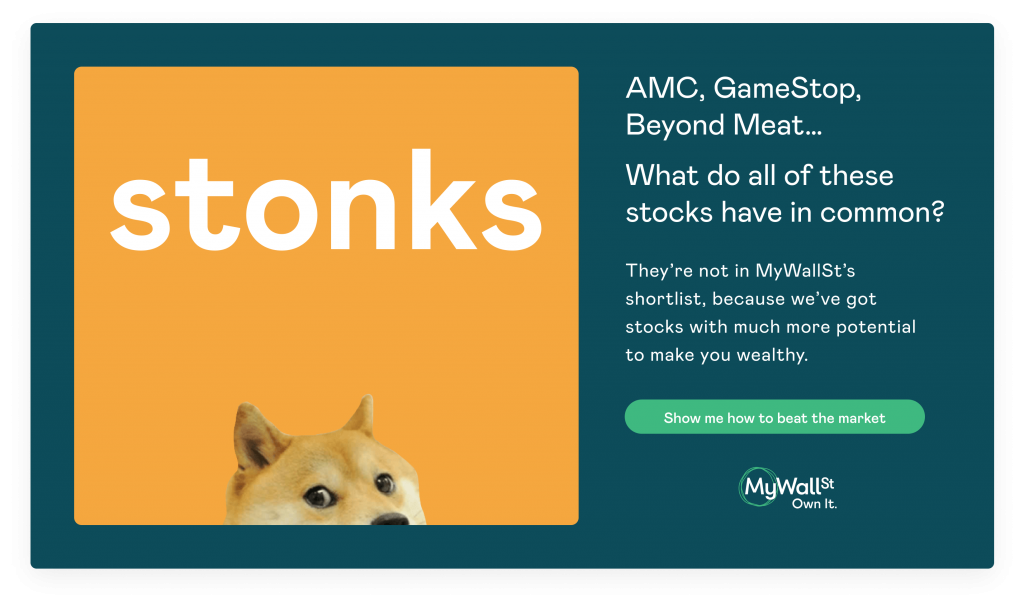 2. Chewy 
Chewy (NYSE: CHWY) is a U.S.-based e-commerce company that is known for its pet products. This stock is riskier compared to Tattooed Ched, as while it is a great company, its profit margins are extremely low (around 1%). 
The stock has a high level of short interest in it, which is likely the main reason the company is receiving a lot of interest on Reddit, currently, 15% of its shares are being shorted as revenue is slowing. 
While Chewy lacks profitability and the stock has dropped almost 14% year-to-date, its business model is still solid. Many experts expect that the "humanization of pets" theme is going to continue to thrive even after the pandemic when people opted to bring an animal into their homes. Roughly 72% of pet parents made at least one online purchase for their animals in the past 12 months with 39% of those being subscription-based purchases.
Chewy is the biggest pure-play pet "e-tailer" in the world, offering "the personalized service of a neighborhood pet store combined with the convenience and speed of e-commerce." Therefore, it is in a good position to benefit from the trend of people spending more money than ever on their furry pals. As well as its addition to one-time sales, the business is building a recurring revenue model through its "autoship" program.
Chewy might be able to reach profitably if it meets two key factors: 
1. Grows its customer base
2. Manages its fulfillment costs through automation in its fulfillment centers, which would reduce labor costs.
The pet products leader is expected to become profitable at the end of this fiscal year, so this might be a stock to watch and see how the Reddit crowd handles it.
Investing on hype not the style for you? Here at MyWallSt we recommend long-term investing and provide our users with a shortlist of market-beating stocks so they can start generating wealth. Start your free access now.