In the aftermath of the financial crisis of 2008-09, technology took over as the driving force of the economy. Indeed, the last decade has been marked by massive changes in the way we work, play, and interact with each other.
Dec. 16, 2019
This article was originally written by Nicholas Rossolili of The Motley Fool.
In the aftermath of the financial crisis of 2008-09, technology took over as the driving force of the economy. Indeed, the last decade has been marked by massive changes in the way we work, play, and interact with each other. No part of our world has gone untouched, from banking services to entertainment, software to hardware, personal life to business life.
The technology movement has since gone by various names: the age of mobility; the fourth industrial revolution; and a more recent buzzword, digital transformation. Whatever you want to call it, it's been a massive win for investors in the 2010s and is set to continue delivering big gains in the years ahead.
Here's a look at the top performers from the last decade, and what they mean for the 2020s.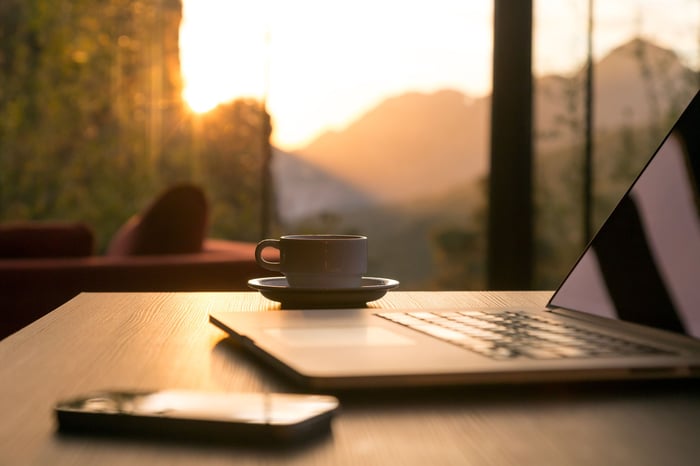 IMAGE SOURCE: GETTY IMAGES.
One household name, and a few surprises
When it comes to the best technology stocks, investors are quick to think of industry leaders and tech giants like Facebook, Amazon, Apple, Netflix, and Google parent Alphabet. These so-called FAANG stocks did lead the charge in reshaping the world we live in today, but only one of those names made it into the top-five best-performing technology plays.
The other four are far less well-known:
| Company | Trailing 10-Year Stock Performance | Trailing 10-Year Total Return (Dividends Reinvested) | Market Cap* |
| --- | --- | --- | --- |
| 1. Netflix (NASDAQ:NFLX) | 3,620% | 3,620% | $130 billion |
| 2. Novanta (NASDAQ:NOVT) | 3,580% | 3,580% | $3 billion |
| 3. Tucows (NASDAQ:TCX) | 2,360% | 2,360% | $623 million |
| 4. Broadcom (NASDAQ:AVGO) | 1,770% | 2,140% | $125 billion |
| 5. Universal Display(NASDAQ:OLED) | 1,540% | 1,550% | $9 billion |
| 6. Amazon (NASDAQ:AMZN) | 1,230% | 1,230% | $864 billion |
| 7. Apple (NASDAQ:AAPL) | 854% | 996% | $1.20 trillion |
| 8. Facebook (NASDAQ:FB)** | 426% | 426% | $573 billion |
| 9. Alphabet (NASDAQ:GOOGL)(NASDAQ:GOOG) | 357% | 357% | $927 billion |
*ROUNDED TO THE NEAREST BILLION. **FIGURES FOR FACEBOOK ARE SINCE ITS INITIAL PUBLIC OFFERING IN MAY 2012. ALL DATA AS OF DEC. 10, 2019. DATA SOURCE: YCHARTS.
All of these stocks have provided game-changing returns for investors who got in near the depths of the financial crisis 10 years ago. The S&P 500 has only returned 249% with dividends reinvested, as measured by the SPDR S&P 500 ETF. In times of rapid change and uncertainty, it pays to invest in smaller disruptive companies -- not just the biggest names on the block.
Netflix and its largest peers need no introduction. But for those who aren't closely following tech investing, here's a recap on the lesser-known companies.
Novanta is a provider of laser and other precision devices aimed at the medical and industrial sectors. While sales growth is certainly there -- up 150% over the last decade -- this industrial technologist is more a rebound story. Earnings were deep in the red in 2009, but have rebounded strongly since then. Novanta is now solidly in profitable territory, and its numerous small acquisitions over the years have it poised to continue growing in the medical and industrial device market.
Canada-based Tucows is still a tiny business even after its record-making 10-year run, but the domain name registration and fiber-based internet service provider is still going strong. Revenue and earnings are up by triple digits since 2009 (316% and 249%, respectively), and though growth has tapered off as of late, there's still potential for this web company as it continues to expand into new markets.
Broadcom has undergone numerous changes over the years. Avago (based in San Jose, California) purchased Singapore-based Broadcom in 2016, and relocated the newly merged entity to the U.S. in 2017. In recent years, the chip giant has turned its focus toward software. It took over CA Technologies in 2018 and Symantec's enterprise cybersecurity segment in 2019, creating a one-stop shop of sorts for businesses looking to build, manage, and secure data centers and other networked operations. With a 3.4% annual dividend yield, Broadcom remains a solid bet on the technology industry.
Finally, there's Universal Display, owner of patents for OLED displays and seller of basic materials used in their manufacture. OLED (organic light-emitting diode) technology is growing fast. Already best-known for their use in flagship smartphones, the ultra-high-definition panels are also slowly taking over the premium TV market and could find other mainstream uses in PCs and tablets, auto displays, and industrial lighting. The limiting factor here has been manufacturing capacity, but dozens of new factories are slated to open in the next couple of years. That makes this small technologist a top pick as the world transitions from legacy LED displays to OLED.
Where to invest next
Technology continues to evolve, and will likely remain a top-performing investment motif in the decade ahead. Now that many technological breakthroughs have been vetted as viable means of business operation, businesses leading the charge to digital transformation should be big winners in the 2020s as well.
One need only look at recent stories like Target (NYSE:TGT), which was panned just a couple years ago for its heavy investments into e-commerce to keep pace with Amazon. More than just an also-ran, Target is now one of the best names in retail, and its stock is up over 80% in 2019 with just weeks left to go. Domino's Pizza (NYSE:DPZ) has also been a runaway success story. The company not only reinvented its food, but also invested heavily in technology to make ordering and delivery more convenient. The world's largest pizza chain is now often referred to as the restaurant that's also a tech company. Shares are up a whopping 3,570% in the last 10 years and should have more room to run.
Those two businesses provide a template for success in the decade ahead, as technology continues to change the way people do business and communicate with each other. The technology companies enabling that change should remain top investing picks, but you can also scoop up companies that are quick to put their technology to use.
---
MyWallSt operates a full disclosure policy. MyWallSt staff currently hold long positions in companies mentioned above. Read our full disclosure policy here.
John Mackey, CEO of Whole Foods Market, an Amazon subsidiary, is a member of The Motley Fool's board of directors. Suzanne Frey, an executive at Alphabet, is a member of The Motley Fool's board of directors. Randi Zuckerberg, a former director of market development and spokeswoman for Facebook and sister to its CEO, Mark Zuckerberg, is a member of The Motley Fool's board of directors. Nicholas Rossolillo and his clients own shares of Alphabet (C shares), Apple, Domino's Pizza, Facebook, and Universal Display. The Motley Fool owns shares of and recommends Alphabet (A shares), Alphabet (C shares), Amazon, Apple, Facebook, Netflix, Tucows, and Universal Display. The Motley Fool recommends Broadcom Ltd. The Motley Fool has a disclosure policy.