Discover Tomorrow's Titans
Nexus is our groundbreaking AI-powered stock-picking service.
It combines cutting-edge technology, advanced filtering, and expert human analysis to find the companies that are positioned for massive growth but are overlooked by traditional analysts.
Have you ever wondered what your life would be like if you had invested in industry behemoths like Netflix, Nvidia, or Tesla before they skyrocketed in value?
Nexus is your ticket to finding those game-changing companies before they become household names.
The Nexus Advantage
What sets Nexus apart is the unique fusion of AI, advanced filtering, and the wisdom of experienced investors.
With Nexus, you gain access to a world of untapped potential, as we analyze over 58,000 publicly listed companies spanning 60 exchanges across the globe.
But we don't stop there.
We filter out only those that meet the criteria to become potential 100 baggers or are very close to it in the future.
Introducing the Nexus Score
How do we decide on which stocks to recommend? Our secret weapon is the Nexus Score, a comprehensive scoring system developed by the MyWallSt analyst team. This proprietary score identifies the cream of the crop among the top 0.01% of stocks globally.
Through rigorous backtesting, it's been proven to find market-beating companies in the past. Had it existed, it would have identified Monster, Sleep Number and Biospecifics before 237x, 177x and 97x growth respectively.
Nexus cuts through all the noise and finds the best companies set for long-term growth. Only a very select few stocks will meet our criteria.
Nexus doesn't just help you find good companies to invest in, but life-changing ones.
Here are just a few of the companies you'll discover with Nexus…
An unprecedented opportunity in a tiny Scandinavian pharmaceutical that's revolutionising treatment for the largest global health crisis… and growing so fast it could report on a weekly basis.
A burgeoning empire that's harnessing the power of strategic acquisitions and relentless reinvestment. This international business is a baby Berkshire Hathaway in the making. Alignment with shareholder interests isn't just a phrase—it's the cornerstone of a legacy in the making.
An enigmatic Swedish firm is quietly compounding growth with a remarkable return on equity above 20% for over ten years
An unheard-of company that's silently transforming efficiency in the public sector. It's poised for explosive growth, recently having entered the world's largest market.
…all profitable and growing at least one of three critical metrics like wildfire.
What does Nexus Include?
When you sign up, you'll have immediate access to 9 stocks we believe are set for astonishing growth. This is the first cohort of stocks that meet Nexus' strict guidelines and you'll have the chance to invest as soon as possible before these companies become common knowledge.
Throughout 2024, we aim to add 7 more stocks that meet our criteria where you'll get first notice and get to add them to your portfolio. Here's a breakdown of how the next year will look like in terms of additions:

Along with the main stock recommendations from Nexus, you'll also receive these bonuses over the next year:
Charging & Fearless 2023 Stocks Ranked

10 US Microcaps with Accompanying Score

10 International Small & Microcaps with Accompanying Score

Dividend and Growth Selections

Free Access to Exclusive Members Event

Charging & Fearless 2024 Stocks Ranked
Probability v Reward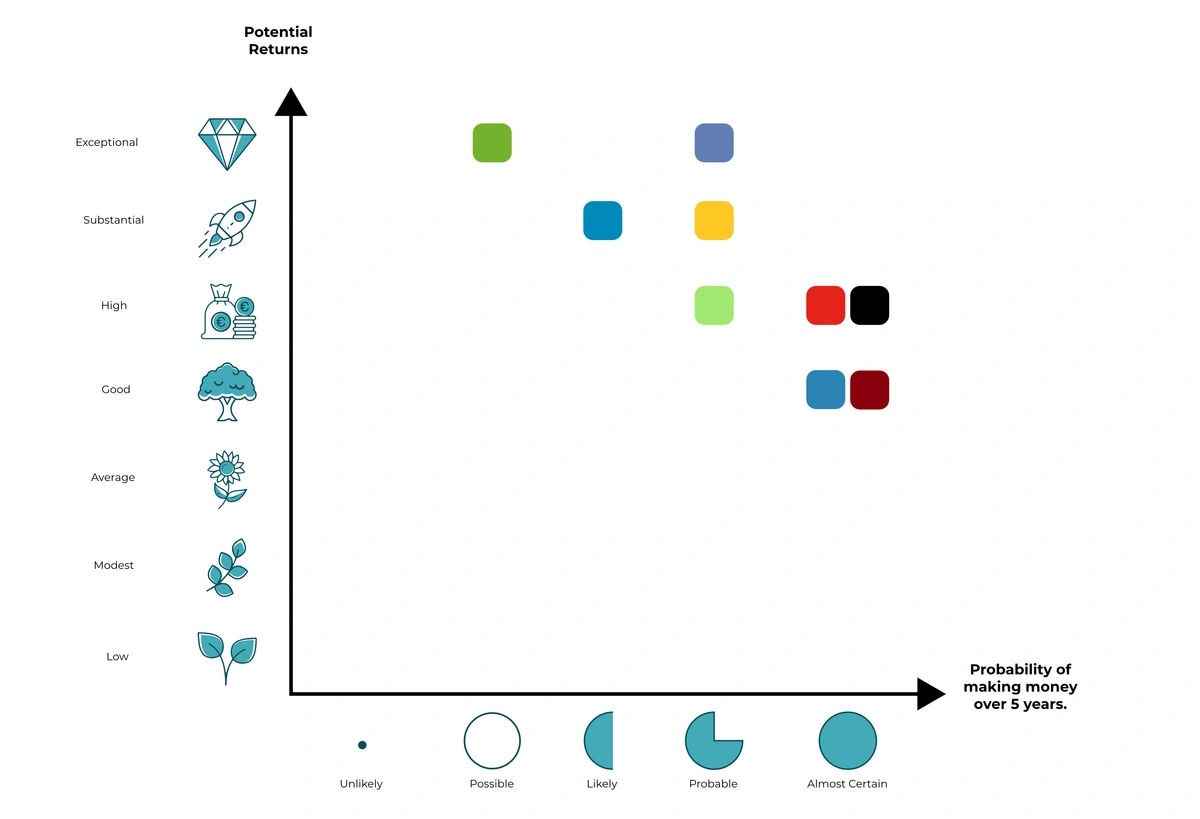 Risk-reward is an age-old concept that has made its way into countless idioms
On the conservative side, we have all heard that "a bird in the hand is worth two in the bush," signifying the value of surety, or "a small certainty is better than a big gamble."
On the other hand, higher risk-reward strategies say that "fortune favours the bold", "no guts, no glory", or "nothing ventured, nothing gained."
In reality, one's propensity for risk varies based on their personality, experience, life-stage, time horizon and many other factors. In the end, an investment needs to align with your unique profile.
This chart was created by combining insights from our teams, advisors, and the Nexus score for each stock. Like anything in the field of investing, it's not a guaranteed forecast.
A stock can not achieve the highest levels of certainty and reward simultaneously. Therefore, while the top right-hand corner represents the most coveted risk-reward zone, it remains elusive.
Nonetheless, we think there is something for everyone in Nexus and that there is much to be excited about, irrespective of your risk profile.
For Dedicated Investors
Nexus isn't for the faint-hearted or the short-term thinkers. It's tailored for dedicated investors with a long-term horizon. We understand that greatness takes time and are willing to wait for up to 25 years for investments to mature.
Our patient approach makes us different. It helps us handle market fluctuations and stay committed to long-term growth. Nexus isn't about passing trends based on hype and short-term gains.
Nexus is for those dedicated to the long term and finding the future market leaders that will be around for years to come.
Your Guide to Successful Investment
With Nexus, you're not just investing, you're securing your financial future. Don't miss out on the opportunity to uncover the next industry giants before they become front-page news.
Our approach is grounded in a core set of quantitative metrics that stand up regardless of the industry or current trends. Combined with our expert analysis, Nexus has a reliable foundation for identifying companies with a strong potential for growth.
When you invest with Nexus, you're not making a random guess. You can be confident that each investment is supported by robust data, ensuring a strategic and informed approach to building lasting wealth.
Join us today and embark on your journey to financial success.